TRAVEL TO AREQUIPA – PERU
Arequipa: Arequipa known as the White City, is surrounded by some of the wildest terrain in Peru. This is a land of active snowy volcanoes, high-altitude deserts, thermal hot springs, salt lakes and, last but not least, the world's deepest canyons.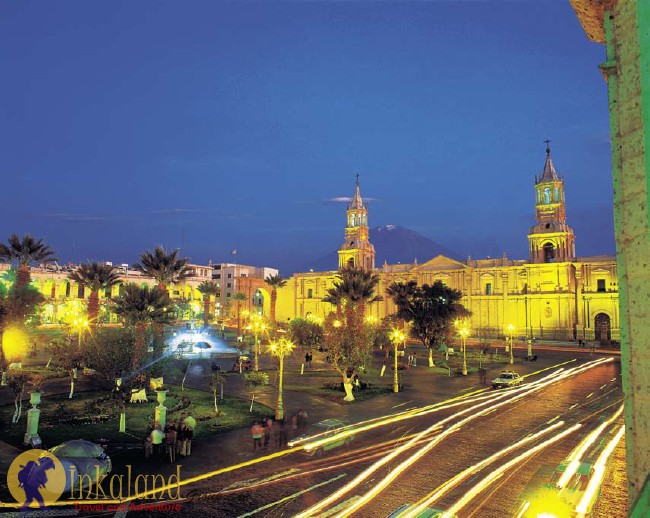 Peru Tour Operator: Yanahuara, Sillar Quarries, Volcano Miste trek, Colca Canyon, Tours Arequipa.Back to top
Arequipa Peru Overview:
    * Location: Southwest of Peru.
    * Area: 63 345 km2
    * Capital: Arequipa (2335 masl).
    * Altitude
      Mínimum: 9 masl (Punta de Bombón)
      Máximum: 4525 masl (San Antonio de Chuca)
Arequipa:
The Misti volcano may be dormant, but Arequipa wakens every morning amidst a flurry of activity. And although the summit of the volcano is often wreathed by small clouds of smoke, the Arequipa townsfolk -proud of their land- do not fail to invite visitors to stroll through the streets of white stone and traditional squares. The lordly city of Arequipa owes the characteristic hue of its houses and other constructions to the white sillar stone quarried in the region.
Founded as the Villa Hermosa de Nuestra Señora de Asunta (the Beautiful Villa of Our Lady of Asunta), Arequipa was recognized as a city in 1541. Throughout its history, Arequipa has also been the cradle of leading thinkers and politicians. Today, the visitor can take in the spectacular neo-Renaissance Cathedral, the impressive Santa Catalina Convent, colonial mansions and museums, all of which are reason enough to visit Arequipa. On the outskirts of the city one can find many other attractions.
The Colca Valley is without a doubt the best-known both in Peru and abroad. Just four hours northeast of the city, the Colca boasts some of the most breath-taking landscapes in Peru: superb terracing, snow-capped peaks, dizzying canyons and towns dating back to the sixteenth century. There are 14 villages that have been preserved in the valley since those early colonial times, which the Spaniards used to settle the ancient Collagua and Cabana tribes, who had previously been scattered around the region. The visitor to the Colca Valley will surely be fascinated by the narrow streets and richly decorated churches. The Colca is also a haven for adventure sports fans.
Other sites include the ancient Toro Muerto rock paintings, the Imata natural stone formations and the Cotahuasi Canyon, believed to be the world's deepest. But what truly unites the different parts of Arequipa is without a doubt its exquisite cuisine. Visitors should not fail to try the local rocoto relleno (stuffed hot chili pepper), adobo (marinated roast beef) and the spicy chupe stews, which are simply irresistible.
Peru Tour Operator: Yanahuara, Sillar Quarries, Volcano Miste trek, Colca Canyon, Tours Arequipa.Back to top
Access Routes
By land:
    * Lima – Arequipa: 1003 km / 623 miles on the Pan-American Highway South (14 hours by car)
By air:
    * Daily flights to Arequipa from: Lima (1 hour), Cusco (30 minutes), Juliaca (30 minutes) and Tacna (30 minutes)
AREQUIPA: Travel and Tours in Peru
BOOKING: Tours, Activities, Hotels, To Visit Arequipa.
AREQUIPA MAP
Peru Tour Operator: Yanahuara, Sillar Quarries, Volcano Miste trek, Colca Canyon, Tours Arequipa.Back to top
WHAT TO DO IN AREQUIPA CITY –  ATTRACTIONS & ACTIVITIES IN AREQUIPA
Explore the best Tours in Arequipa, one of the most important cities of Peru. The so-called White City gathers the most exciting activities to do in this south American gem. Besides being home to the 2nd Deepest Canyon in the World, this region comprehends volcanos, sanctuaries, museums, history, and traditions. Learn everything you need to know about this beautiful city and make the most of your experience!
The city of Arequipa is the second largest city in Peru and the fact that a great number of its buildings were built using a white volcanic rock called "sillar" is the reason for its unique alias. Arequipa is also very popular for its extraordinary climate with blue sky and moderate temperatures.
Arequipa's main attraction is, without a doubt, the magnificent historic center, which owes its beauty and meaning to more than its impeccable white facades. The architectural style of most of the structures, built in volcanic rock, shows a harmonious combination of indigenous and European elements and techniques, resulting in a spectacular display of exquisitely decorated mansions, courtyards, cloisters and churches.
The white city of Arequipa is sumptuously photogenic, and has enough attractions and insights into day-to-day life in Peru to keep every traveller occupied for a stay of at least two or three nights. Although already a popular and integral part of many Peru itineraries, we think it's also a more attractive, less touristy.
There are a variety of different tours on offer that claim to offer the best experience in Arequipa, and which one you choose will depend very much on fitness levels, time available and budget. Not every single day trip from Arequipa involves hiking for multiple days, high altitude, or hits of adrenalin.
The town of Paucarpata and the small village of Sabandia (both less than 10 km from Arequipa) are becoming increasingly popular day trips and provide the opportunity for the curious traveller to experience a different side to the region, as well as provide stunning views of Misti Volcano.
Peru Tour Operator: Yanahuara, Sillar Quarries, Volcano Miste trek, Colca Canyon, Tours Arequipa.Back to top
VISIT THE YANAHUARA VIEWPOINT
If you want to enjoy a spectacular view of the city you can't miss visiting Yanahuara's Viewpoint . It's located just 10 minutes away from the Plaza de Armas, in the district of the same name.
Yanahuara will offer you amazing views of Arequipa with the city at the foot of its three most representative volcanoes: Misti, Chachani and PichuPichu. In addition, another of the attractions of this place are its characteristic white sillar arches, in which you can read phrases written by famous people from Peru.
Peru Tour Operator: Yanahuara, Sillar Quarries, Volcano Miste trek, Colca Canyon, Tours Arequipa.Back to top
THE SILLAR QUARRIES
The White Sillar is found in a group of quarries, located in the Cerro Colorado district, 40 minutes away from Arequipa. This place gathers a major geologic and historical importance since most of the Historic Center of Arequipa was built with these volcanic rocks.
This place is divided into three locations, Añashuayco, Cortadores, and Virgen de Culebrillas quarries. They lie on the base of the Chachani Volcano and have an extension of 2 kilometers.
During the colonial era, the white sillar was mainly used in the construction of the city. An exemplary structure would be the Santa Catalina Monastery, which dates back to the late 1500s. Located a few blocks away from the Cathedral of Arequipa. The Santo Domingo and La Merced churches are also a few of the main structures made out of Sillar, as well as the arches found in the Yanahuara Viewpoint.
Peru Tour Operator: Yanahuara, Sillar Quarries, Volcano Miste trek, Colca Canyon, Tours Arequipa.Back to top
GASTRONOMY OF AREQUIPA
Peru is commonly referred to as "The Food Capital of South America" and for good reason too! A distinct feature of Peruvian food is the blend of traditional cooking styles with newer influences, resulting in a unique combination of flavors and influences. As a result of these unique cooking styles, Arequipa boasts some of the best restaurants in South America. Along with typical Peruvian dishes such as Ceviche and Lomo Saltado, Arequipa has a number of regional dishes and ingredients that are totally different from anything you've ever tried before!
Alongside the excellent cuisine of Arequipa, there is also a fantastic nightlife scene, with both locals and tourist alike frequenting many bars and nightclubs in the city every night.
A picantería is a type of restaurant popular in the cities of Arequipa and Cusco. These traditional restaurants generally serve up a spicy dish called picante (hence the name of picantería) along with soups and chicha de jora (Andean corn beer). This type of establishment is practically an institution in Arequipa, and paying a visit to one is one of the best ways to experience the food and culture of Arequipa.
Peru Tour Operator: Yanahuara, Sillar Quarries, Volcano Miste trek, Colca Canyon, Tours Arequipa.Back to top
HIKE TO THE VOLCANOES
TREK TO THE MISTI VOLCANO
Arequipa is surrounded by volcanoes, and they are a sight to behold. Its most famous and visible one – El Misti – stands at 5,822 meteres, and hiking to the summit is a popular trip for the more adventurous traveller. Be warned however, this is not an easy trek, and certainly not something that should be attempted by those with even average fitness or the unacclimatised.
Due to the complexity of reaching the summit, this is absolutely not recommended and almost certainly not possible hike by yourself. As far as we know, it's via a tour company only.
The most common hike to undertake takes two days and one night, setting off around 8 a.m. and arriving back to Arequipa in the late afternoon the following day.
CLIMB THE CHACANI VOLCANO
Tougher than the Misti volcano hike we mentioned, the completion of a trek up to the top of the towering extinct Chacani Volcano (6070 metres) is one should be worn as a badge of honour. It's seriously high, it's seriously cold and it's seriously draining; it will make you swear and pray for it to be over. But, those views make it all worth while.
It's certainly possible for non-technical climbers to complete this trek, but you absolutely need to be fully acclimatised to the altitude and beyond prepared. Whilst the route remains the same, you will have the option to undertake this trek over one or two days. Whilst it's certainly possible to complete with one day, this would involve leaving Arequipa in the night and hiking in the darkness and without a substantial break. Instead, we'd recommend a two day option.
Peru Tour Operator: Yanahuara, Sillar Quarries, Volcano Miste trek, Colca Canyon, Tours Arequipa.Back to top
VISIT SALINAS SALT LAGOON
Hands up, who knew that Peru had its own salt flats? Nope, us neither. Which probably explains why it's so damn difficult to reach.
Visitors during the rainy season will be treated to flocks of flamingoes, but all year round there are vicuña, alpacas and llamas – plus the hike around the lagoon is beautiful whatever the weather. Unlike much of Peru, this remains one destination that has not been commercialized, and as such, there is no physical way to make it there by public transport.
After a scenic early morning three-hour drive from Arequipa, you'll have some off-roading, a hike to the impressive Salinas Salt Lagoon, and plenty opportunities to spot the local wildlife.
Peru Tour Operator: Yanahuara, Sillar Quarries, Volcano Miste trek, Colca Canyon, Tours Arequipa.Back to top
SAN CAMILO MARKET
Explore the different alleys, which are carefully organized by type of product. You will be surprised by the number of products and colors! Walk through the aisles of herbs, meats, breads, fruits, cheeses, etc. Visit the juice and food area and try a good glass of fresh juice, and on the second floor, visit the sale of flowers and textile products.
In San Camilo you can learn about the enormous variety of potatoes that Peru offers. Did you know that Peru has more than 3,500 varieties of potato, the largest in the world.
Peru Tour Operator: Yanahuara, Sillar Quarries, Volcano Miste trek, Colca Canyon, Tours Arequipa.Back to top